I have been wanting to introduce a referral program for a while now. Ever since I saw how awesome Omerica Organic (wooden plugs) referral/ rep program is. I wish I could role out a program more like theirs, someday when I get bigger I will. Mark my words. But for now I will offer a small gift for the new buyer, as well as a rewards program for the rep.
So here it is and I hope you will join me in this new adventure!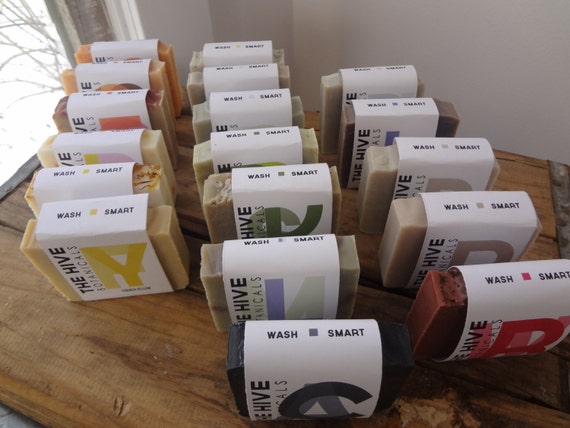 The Hive Referral Program:
The Etsy Referral Program is a simple way for us to expand our audience and reward those who put time and effort into helping us do so. Read below for more information and then sign-up, and create your own rep code of your own to start earning free products!
THE BASICS:
What do I get out of this? Free goodies! Check out the thresholds below to find out exactly what free stuff will be coming your way and when you will get them. You will also help us know where our buyers are coming from and allow us to get that much closer to my dream of being fully self-employed from this business by helping us spread the word.
What do the people I refer get out of this?
While I would love to offer a percentage discount to everyone that is referred, it isn't possible to set it up while I'm selling on Etsy because of the limitations of the shop and coding. Once I have my own site, the referral program will change.
At this time a
nyone that includes a referral code in the "Notes to Seller" section at check-out will receive a free sampler soap with their order. This will be available for their first order or their tenth. There is no limit to how many orders this program can apply to.
QUALIFYING ORDERS:
What makes an order a qualifying order? Every qualifying order has the following characteristics:
The order total needs to be a minimum of $10.00 prior to shipping costs.
The order needs to include your personal rep code (that you have created - up to 8 characters) in the "Notes to Seller" section to let us know who sent them our way.
If an order is $9.99 or under and includes a referral code, it will not be considered valid and therefore will not count towards your order count. Similarly, if an order does not contain a rep code in the "Notes to Seller" section when the purchase is made, it will not be considered valid and therefore will not count towards your order count. So be sure to remind people to spend $10 or more AND to include your code in order for their purchase to count!
Do all orders need to be from different people? Nope! As long as they are all qualifying orders (o and include your rep code), it doesn't matter who they come from. You could hit the ten order threshold by having 10 different people place an order or 2 people place five orders each. It doesn't matter how you get there as long as it's a qualifying order!
ORDER COUNT THRESHOLDS:
What are the order count thresholds? Every time your rep code is used in a qualifying order, you're one step closer to receiving free products! Below are the specific thresholds for your referral orders:
5 Qualifying Orders: Free: lip balm OR bar of soap– your choice of flavor/scent. ($5.00 -$6.00 value)

10 Qualifying Orders:

Free: bar of soap AND lip balm - your choice of flavor/scents ($11.00 value)

15 Qualifying Orders: Free: 3 bars of soap - your choice of scents: ($18.00 value)

20 Qualifying Orders: $25 Gift Certificate to the shop
We'll be adding more to the order count thresholds for those who are rock-star referrers so don't worry if you're getting close to the 20 qualifying order threshold – we'll have something for you, promise!
PROMOTION:
Do you have a graphic/image/button I can add to my website with my rep code?
Please include the size button you will need for your blog in the sign up sheet.
You'll receive your button and how to use it we send your welcome package .
THE NITTY GRITTY:
Is the Referral Program free to join? YES, 100% free of charge! There are no fees associated with the program itself.
Do my own orders count towards my order count thresholds? Unfortunately your orders do not count towards your order count. Our goal with this program is to expand our audience and reward those who help us do just that. Besides, we already like to throw in extra goodies for our repeat buyers so you're not missing out!
Who tracks the orders? We do all the work for you. We'll notify you when qualifying orders are placed if you check that little box on the form below, but we'll keep the tally even if you don't want to know every time an order is placed with your rep code. You can check with us any time you'd like to know how many qualifying orders you have.
Does this work on previous orders? Sorry, but this does not apply towards anyone that you have referred in the past.
Do I have to purchase something from you in order to sign up for the referral program?
No! We welcome anyone who's interested in helping us spread the word. While you don't have to be a current customer of ours in order to sign up for the referral program, we strongly encourage it! It's much easier to persuade someone to use specific products when you
have firsthand experience with them.
Ready to become a rep?! Sign up now:


This information is subject to change without notice. If you would like to be notified of any changes that are made to the referral program, please click "yes" in the form above when asked if you like to be notified via email when updates are made to the referral program. You will receive an email welcoming you to the program within 72 hours,along with your blog button if you have requested one – if you do not receive an email within 72 hours, please check your spam folder and then email us at veranellies to verify that we have received your information. Once you have chosen your rep code, it CANNOT be changed unless it is already in use - in that case a new rep code will be assigned to you when you become a member. It is your duty to notify us of any email or home address changes whenever they happen. We will only contact you at the email provided of any changes, order threshold achievements, etc.